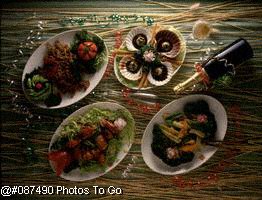 FOOD TYPE WHITE WINE RED WINE

Mexican/Spicy Riesling; Chenin/Chard Grenache/Garnacha
Sauvignon Blanc, Wh. Merlot Blush or Rose

Sushi Sauvignon Blanc, Sake Grenache/Garnacha
or Chardonnay

Thai Moscato or Riesling, Zinfandel
possibly Chardonnay

Asian (gen.) Sauvignon Blanc, Zinfandel
Pinot Grigio/Gris

Seafood (gen.) Dry: Sauvignon Blancs, v. light fruity Reds
Rieslings, Italian whites

Cheddar Cheese Chardonnay Cabernet Sauvignon

Swiss, Gruyere, Sauv. Blanc, Chard. Pinot Noir
or Edam

Brie, Camembert Viognier, Riesling Barbera, Pinot Noir

Trout Sauvignon Blanc, Sangiovese,Grenache
Chardonnay

Shellfish Sauvignon Blanc, Semillon, no reds
Moscato

Chicken Sauvignon Blanc, Zinfandel, Barbera
Rielsing, Pinot Grigio/Gris

Turkey Sauvignon Blanc, Pinot Noir, Zinfandel
Riesling, Viognier

Pasta Chardonnay Sangiovese, Syrah, Malbec

Tomato Sauce, Chardonnay Sangiovese, Barbera, Grenache
Pizza Cabernet Sauvignon, Syrah

Buffalo none recommended Any full-bodied red
or Steak Cab, Bordeaux, Cote du Rhone

Pork white Supertuscans, Grenache, Tempranillo,
Riesling Pinot Noir, Merlot

Venison none recommended Barbera, Tempranillo,
Merlot, Syrah

Veal Chardonnay Grenache, Sangiovese,
Tempranillo, Pinot Noir

Mid Eastern none recommended Grenache/Garnacha

Semi-Sweet Dessert, Sweet Riesling or A fruity red.
Salty Cheeses Gewurtztraminer

Sweet Dessert Champagne!


In general:

1. Oaky Chardonnays or elegant reds are not good with very spicy foods.
2. Simple sauces are best with strong reds.
3. Cabernet Sauvignon & Syrah/Shiraz go well with peppered dishes.